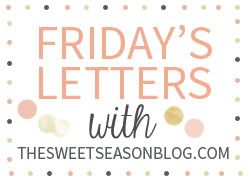 I'm gonna link up for some Friday Letters, I have some posts on the burner but I want to save them for next week when school will resume!
Dear Weathermen, You were a little off this time. We only got 6 inches of snow instead of the 10-12 inches you said at first.
Dear Stella, I'm sorry you don't like snow!
Dear Camera, I can't wait to go out and take some snowy pics! I'm slowly, slowly learning more and more about you! And look I'm inspector gadget when I'm using you! I think I should name it, any ideas?
Photo courtesy of Madeleine
Dear Christmas Buddy
, HAPPY BIRTHDAY :) And Happy Belated Birthday Stephanie!
Dear Followers,
Thanks again! 202, Dolla make yah holla! And because you love me so much you could go over to
Eat. Pray. Love. Run
and enter her 50 follower giveaway!